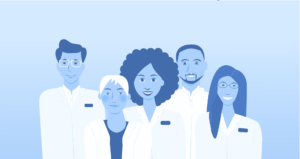 JOIN US!
Become an organizational member of Charitable Pharmacies of America and enjoy the benefits of a robust network of dedicated professionals working to improve medication access through charitable pharmacy efforts.
Our members commit to the following code of ethics.
A charitable pharmacy dedicated to the delivery of pharmacy services to underserved patients with limited access to healthcare, with the expressed purpose of improving health outcomes among the vulnerable by reducing health disparities and increasing medication access.
Our Commitment:
Deliver the highest quality patient-centered care to optimize medication use and health outcomes for all, while safeguarding the dignity and the value of every patient served.
Act with honesty and integrity while maintaining professional competence and conforming with pharmacy best practices.
Recognize our responsibilities to the patients and the communities we serve.
Ensure compliance with all local, state and federal regulations.
This code of ethics translates into the following operational commitments:
Dignity and value of patients, employees, volunteers, students and stakeholders
No tolerance of any kind of discrimination that creates a hostile and unpleasant environment for patients, employees, volunteers, students or stakeholders. Anti-discrimination and anti-harassment policies collaborate.
Business Management
Operate pharmacy or facility in compliance with consumer protection and local, state and national business regulations.
Quality Pharmaceuticals
Quality pharmaceuticals are sourced, tracked, stored and dispensed per local, state and federal regulations and manufacturer recommendations.
Documentation
Collect attestation or other documentation that verifies population being served has limited access to medication (low income, lack of insurance, other criteria).
Comprehensive Medication Management
Deliver highest quality patient-centered care (Comprehensive Medication Management) as established by APhA, ASHP, and other national pharmacist organizations.  Services include, but are not limited to, patient counseling and education and collaborating with other healthcare providers and community resources.
Monitoring and Improvement
Following initial needs assessment, determine through regular review (annual) if the needs of the patients and community are being met or have changed.  Implement adjustments required to optimize services.  Share results with the community and stakeholders.
Professional Education
Participate in professional offerings related to charity pharmacy, patient care and education, and business and pharmacy best practices.  This is for licensed staff, but, whenever possible, should include all staff, volunteers, and applicable stakeholders.